Class Notes, Spring 2011
Class Notes, Spring 2011
Happy New Year everyone!  It's great to get into another year with an update from many of us.  We have some newcomers to the mix.  And please don't forget to check out www.kps94.org for instant updates.  If you get this, but not my emails check the website for more info, specifically the MIA section which I've updated as of end of January.
Things have been great on my side – as those of you on the email list, you saw that wifey (Linnea) and I had our first baby girl, Luciana Sage Miller on 11/28/10 coming in at 6lbs-8oz and 19.5″ long.  Definitely a change for the better and we're enjoying parenthood.  At 7 weeks old, Lucy is healthy, well and "at ease" – Wifey is even better, and only 7 more pounds to go to return to "running weight" and back running at 6 weeks.  If anyone is curious about intense exercise while pregnant – hit me up and I'll offer our experiences.  We'll just say that we didn't listen well to our mothers and many naysayers out there.  Little Lucy did 2 half marathons and a full marathon while peed up in that little womb.  Linnea ran until 7 months and we attribute to much of the wellness to the continued exercise during pregancy.  For me, business is going really well – 2011 will be a great year and the entrepreneurial spirit rocks on!
In 3 weeks, myself, James MacRitchie and Chuck Eaton will continue our "Sausage Fest" tradition with a trip to Park City, UT.  It's like our 8th or 9th annual trip by now.
Speaking of annual trips, John Bellisimo, James Power and Tim Green have thrown out the idea of doing a "kind-of" regular (every other year or so) mini-reunion, starting with our 17-1/2 year which will be coming up.  If anyone is interested or has any ideas, hit John up at john.bellissimo@wellsfargo.com
I'm sorry, but I have some older entries that didn't make the last submission so as usual, will go in reverse chronological order.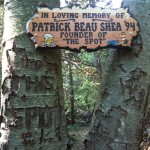 Over the summer, Eric Fresch made a trip back east and in memory of Pat Shea, went to the Spot and posted a beautiful sign in Pat's honor.
Will Herman hit up the website www.kps94.org and found the MIA list and wrote in.  "My wife found this the ther day and said I should get off the MIA list. A lots has happened since KP.  Julie and I have 6 kids ages 12 to 1.  We are in the training pipeline to take command of USS NEW YORK (LPD 21) in February 2011.  After working for the National Response Corporation for 3 years, I was glad to get back to sea even if it was with the Navy.  We were very fortunate and have had great tours on 4 different ship and 3 different staffs.  I ran into Matt Lavin while I was working with the Coast Guard on Maritime Homeland Defense.  He is in Elizabeth City, NC getting ready to start flying C-130s for the USCG.
Matt Hannuksela wrote in and "ran into Catalda Van Dyke while grocery shopping for the tug a while back.  Her and Terry are now living in Anacortes, WA.  A bit of a KP'94 4th Co NW baby boom is in progress.  Terry and Catalda had their 3rd a baby boy earlier this summer, Chuck and Erin Eaton are due with their second (a girl) in Oct, and Tracy and I are due with our second (a boy) around Thanksgiving!  Still working for Crowley doing Ship Assist and Escort work in Puget Sound."  Thanks for all of the updates, Matt.
Kami (Thompson) Gallaher sent in a quick update – " My husband (James Gallaher KP '93) & I recently had a baby. I gave birth to Declan James Gallaher on 10-10-10. He was 9 lbs 4 oz, 21 in. Everyone here is doing well, healthy and happy."  Congrats Kami!
Matt Ross sent in a group picture of some KP'ers including Captain Robert Carr (KP'90), Chevron Shipping President Mike Carthew (KP'74), Chief Engineer Doug Price (KP'91) and Chief Mate Matt Ross (KP'94).  According to Matt's Holiday letter which was sent on New Year's Eve.  Matt's been busy with work and wordly travels including bringing "The Arizona Voyager" ship on her final voyage.  Matt also spent some time in Scotland visiting his mother's families.  And finally, Matt passed his first Pilot Exam in San Fransisco.  Congrat's Matt!
Nicolle (McIntyer) Fowler announced the arrival of their twins.  "The babies arrived November 23, 2010.  Megan Suzanne Fowler 6 lbs 1 oz, 17 inches long at 10:12am and Zachary Paul Fowler 5 lbs 13 oz, 18 1/2 inches long at 10:13 am. Both babies are perfectly healthy and came home with us from the hospital without issue.  Big sister Alyssa is adjusting well to the two new arrivals! Paul went back to work middle of this week, so I am on my own now – we have a little bit of a hectic time when they are both hungry at the same time, otherwise they do a lot of sleeping. I will be home on maternity leave until February, so if you any of you are around, we love visitors!"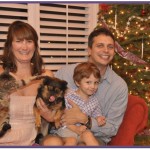 Chris Wholfeld sent in a holiday card showing his family.  And by the photoshopped Ultrasound picture on his wife's belly, it appears that they are expecting another baby! Congrats Chris.
Ed Pudjayana wrote in "Nothing new here. Just happy to have a great paying job that pays the bills and get a quiet night sleep.  Pretty low key."
Fred Castanguay wrote in to announce that he was recently married to a lovely woman from Venezuela, Carlita, and are both now living in Shanghai looking to start a family.
Dan Brodeur sent in some updates from the Northeast.  "Was out in Seattle for Reserve Duty and caught up with Scott Huber for dinner.  He's doing well.  Was out to visit Matt Lenski and family in northwest Indiana.  He's working for a power company as an electrical engineer overseeing repairs. I'm still coaching high school volleyball in New Hampshire as a Varsity team coach.  Took a job at a larger high school in the fall of 2009 and we went to the semifinals for the second time in 9 years.  Unfortunately we lost, but it set the stage for this fall.  We had a good season, running the tables to win the state championship with an undefeated 20-0 record.  The team we beat in the finals was the team that knocked us out last year in the semifinals.  It was pretty sweet!"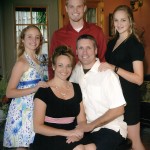 Art Miller hasn't sent in any updates in a while and writes in . . . "Still linving in Southern, CA with my wife and 3 kids.  I was out of work for a few months when my old company shut down our division but as of March 2010, I am the new Regional Manager for QuayQuip-PEM. We manufacture Marine Fenders and Mooring systems.  If anyone is working for any of the ports or for a shipping company in charge of their own pier maintenance, shoot me an email artm@quayquip-pem.com or call (619) 955-0664.  While I was in between jobs, I started a small consulting and specialty procurement company that focuses on obsolete parts for ships, mainly the US Navy and MSC.  Would love to set up a BBQ or something for any KP grads in the Inland Empire (Riverside and San Bernardino Counties).  Oh yeah, GO STEELERS!
Casey Scott has finally returned from the Middle East after 5 years in Qatar. He's now chartering ships in Houston and says it's "Nothing to brag about but it's a fun job."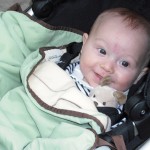 Chris "Canman" Anderson wrote in after some time.  After being an Engineering Officer onboard the HARRY S. TRUMAN, I left for some needed shore-duty at the Commander, Naval Surface Forces Atlantic here in Norfolk.  I have been quite busy doing requirements and analysis for Ballistic Missile Defense.  Last August, Kim and I were blessed with a baby boy, William Decker.  He was 7 lbs, 11oz and 21 inches.  Since then, we've been enjoying ourselves and getting out.  We met up with some friends in Annapolis before Thanksgiving for a Naval Academy home game against Central Michigan.  Sean & Angie Poltrack, Todd & Amanda Evans, Jim & Jen Levings, Mike & Linda Goodnight, and Kurt Davis were in attendance.  Dave Schmitz met up with us afterwards.
We spent Christmas at home but just returned from a venture down to Tampa and Disney World.  I ran the Disney half-marathon with a Navy friend and then spent several days enjoying the parks with our families.  Rayme Lacy was out of town working on a project, but Tanya Lacy and the kids stopped by to see us at Epcot.
Thanks for the submissions!  I have updated our "MIA List" of missing email addresses on our website, www.kps94.org/MIA And be sure to join our Facebook group "Kings Point Class of 1994"    Till next round . . . ~Blake