Class Notes, Summer 2011
Class Notes, Summer 2011
It's spring time already and time can't go by any faster . . . though I'm sure we'll be saying this again soon enough.  Thanks for all of the submissions – have some new ones again.  I also made a good dent into our "MIA List" and had a few of us send in some corrections.  Don't forget to find us on Facebook too – I won't provide the link here, but our group name is "Kings Point Class of 1994"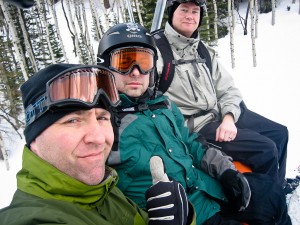 James MacRitchie, Chuck Eaton and myself continued our "Sausage Fest" tradition with a trip to Park City, UT.  It was our 8th trip and we've only repeated a resort once.  We'd love for others to join in so drop me a line if you're interested in 2012.  We usually go somewhere between mid February and mid- March.
Nothing new on my side . . . just being busy with work, life and our little Lucy who is now almost 5 months old (and will be over 7 when you get this).  Work is busy, and we continue to incorporate more Running into our lives and launching another Summer Training club here in San Diego.  I just finished our Spring gropu that had over 325+ members in it.  Run along . . .
Speaking of annual trips, John Bellisimo, James Power and Tim Green have thrown out the idea of doing a "kind-of" regular (every other year or so) mini-reunion, starting with our 17-1/2 year which will be coming up.  If anyone is interested or has any ideas, hit John up at john.bellissimo@wellsfargo.com
Derek Paschal and his wife Julie are pregnant with our first child, and they'll be having a boy!  "She is due in mid August, so we're very excited.  Other than that there isn't much to say.  I certainly don't live a very exciting life anymore, but I'm expecting that to change once the baby comes home."  Congrats Derek!
Tommy Blenk is finally "back home" from Korea and wrote a very quick note . . . "I am now living in NY, working out of the ABS NYC Office."  I think he lived there for almost 10 years??
Many of you have heard, but James DeSmet left GE and joined "Big Ass Fans" (yes, a real company and name)  Well, he better get a "Big Ass House" cus him and Missy are expecting #4 this summer!  James wrote in " . . . and yes, the stem is finally on the apple!  Saw the (Rayme) Lacy's over the holidays and they are doing well.  Rayme is doing his best to keep the reactors cool & contained in Wisconsin by shoveling snow into the containment pool while doing his best Homer Simpson impersonations.  Ed Quinn just recently joined us at the Big Ass Fan company.  If Ed holds to his reputation, by the end of the year we should be able to officially replace the Big for a Jack.
Hans Rittinger is "still powering paradise at Florida Power and Light. St. Lucie Nuclear"  And also sent in a photo of his daughter Lola who at 4 yrs old  . . . "is ready for the summer surfing on her board"
Peter Ford offered a long overdue update . . . "I recently took over as CEO for Salalah Port Services, a listed company in Oman (but still a part of the APM Terminals portfolio), as of September 1 2010. It is an incredible challenge and even with all the tensions in the middle east we seem to have come out on top stronger. Recently, I had a visit from General McNabb, head of TransCom, and his staff to see the strategic importance of us in the logistics chain. He is smart as a whip and passionate about transportation!
Rachel, Skyler, and I are certainly settling in nicely as we get to live on a beautiful beach in Muscat. Well, they live there full-time and I spend half my time in Salalah with the team there. Rachel and I will celebrate our 17 year anniversary this year and Skyler is about to turn 10, both of these have snuck up on me and make me feel that much older…It seems like just the other day we graduated…
Since being over here, I have been able to bump into other KP'ers living in the middle east. The family and I spent a great evening with Karl Lang ('93) and his family in Dubai the other month. This week I got to see Rex Gundle ('83), Doug Smith ('94), and Kurt Sulzbach ('99) in Ho Chi Minh City, Vietnam where we had a global APMT meeting and witnessed the grand opening of our newest container terminal. While over there I also got to spend some quality time with Hans Bean ('93) in Hong Kong. We had some drinks one night and then coffee/lunch in days following. He looks to be enjoying his time back over there and I don't blame him.  That's all for me now. Take care, Peter Ford
Dave Gombos wrote in . . . "I am going on six years here in Shanghai as a new construction surveyor with ABS.  Business is still pretty good here despite all the economic turmoil in the world.  My wife, Diana, and I have two girls ages 6 and 3.  They certainly keep us on our toes!  If any other KP folks are in the area, please drop me a line at workworldwide@earthlink.net .  I am nearly 10 years in China total, and the growth I have seen is astounding."
Hugh Healy reports that all is well family in Guam.  "I just returned from a 5 day off road, adventure motorcycle ride through Cambodia visiting the ancient temples.  I didn't see any missing Kings Pointers in Bangkok or Cambodia but I'll keep searching!"
Joe Costanza offered an update after some time away from the Kings Pointer . . . "I am working for Liberty Maritime Corp. in New York as the Environmental Management Engineer.  My job is basically to ensure that all the ships in our fleet are in compliance with environmental regulations from authorities around the world since our fleet travels worldwide.  I have been back with Liberty Maritime for five years now after a short hiatus for two years with another company.  My wife Marlene and I bought the house we always wanted just over two years ago in Greenlawn on Long Island.  We now have two children.  Our daughter Rebecca is getting ready to turn six, and our son Matthew will be turning two at the end of August.  Beside keeping busy with all the normal stuff, I am also a lieutenant with my local volunteer fire department, of which I have been a member now for seven years.  That's about all I have going on here."  Well, that's a lot, Joe!  Congrats.
Ed Pudjayana is sorry . . . "No juicy updates, just work – sleep – repeat."  At least we're still kicking the grindstone, Ed.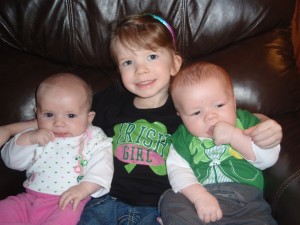 And Nicolle (McIntyre) Fowler wraps things up for this submission . . . "All is well here in Fargo, here is a picture of the kids from St Patrick's Day.  The twins (Megan and Zachary) are now 4 ½ months and getting along great with their big sister Alyssa (3).  We are certainly busy around here!"
Thanks again for the submissions!  I have updated our "MIA List" of missing email addresses on our website, www.kps94.org/MIA And be sure to join our Facebook group "Kings Point Class of 1994"    Till next round . . . ~Blake