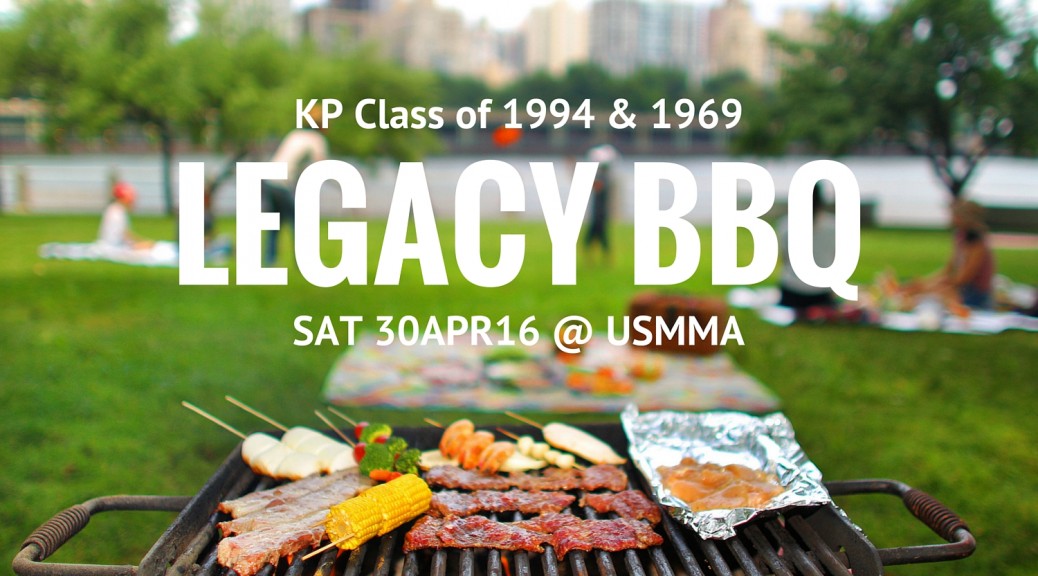 Legacy Class Plebe BBQ 2016
Legacy Class Plebe BBQ 2016
We are hosting a Plebe BBQ down at the waterfront to celebrate and support our 25yr Legacy Class of 2019 and you're invited! We will be joined by the 50yr Legacy Class of 1969 as well.
Come out and enjoy the day at KP as there is a lot going on: The Alumni Association and Foundation's Board of Directors will hold their spring meeting on Saturday morning followed by several sport's events on campus. Afterward the Lacrosse game (~1330/1400'ish) we'll rally at the waterfront to meet the Plebe Class, chat about the maritime industry and experiences, and enjoy a succulent BBQ roast! Who knows where we'll end after the sun goes down . . .
Event Details
What: Legacy Class of 2019 Plebe BBQ
Date: Saturday, 30 April 2016
Time: 1400 – 1700 (Immediately following Lacrosse game)
Where: USMMA Waterfront
Who:  Plebe Class (2019) and the members of 1994 and 1969 (25- and 50-year) Legacy Classes
RSVP: Please RSVP Here if you are going to attend the event.
Cost: $20/pp  + sponsored plates*
*Donations Requested
We are funding most of these activities on our own accord and they wouldn't be possible without your support. The cost per plate is going to be approximately $20 each so we are encouraging you to sponsor at least one Plebe, if not more. In the event we have a surplus of funds, we'll put them towards a future event.
Thank You
Come out and show our support to the Class of 2019!
'94 Legacy Class Team:
Chris Anderson, Steve Laino, Rayme Lacy, Brian Murphy, John Bellisimo & Blake Miller
Register Here
Registration and Donations are separate. If you are going to attend, please register online here.
http://kps94-legacy-class-plebe-bbq-2016.eventbrite.com/?aff=web
Donate Here
IMPORTANT: You will be directed to PayPal to make your payment/donation. You must fully complete the purchase all the way through for your registration to complete. (Just keep hitting "continue") You will end up back on this page with a confirmation. You will also receive an Email confirmation from the website, and from PayPal.