Indoctrination – Class of 2014
Indoctrination – Class of 2014
From USMMAF – 7/20/10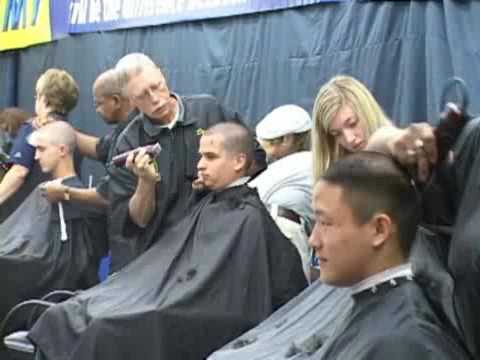 On July8th , the Academy welcomed the Class of 2014 and thus began the Indoctrination period. During this period the class is referred to as "candidates." Once indoctrination is completed, they will be called "plebe candidates." At Acceptance Day on Sept. 4th the class will be accepted into the Regiment as "plebes." Recognition Day (determined by the first class officers) will make them "fourth classmen."
The Class of 2014 started with 346 candidates, the largest incoming class since 1985. The class has many "legacy" children who entered including sons, a daughter, and grandchildren. They are Susan '85 and Brad Winfree '85 (Alexandra), Fred Ebers '75 (Fred), Ed Ferenczy '77 (Jesse), James Mathews '78 (James), Andrew Garger '80 (Stephen), Mark Berglund '81 (Matthew), Guy Wilson '83 (Michael), Scott Britton '84 (Derek), and Tim Weber '92 (TJ). Grandchildren were Elliot See '49 (Andrew See), Bruce Laubenheimer '57 (Dustin Myers), and Richard Adams '60 (Shannen Dunn). There were also brothers, a sister, nieces and nephews of graduates and current midshipmen.
Members of the 50th Legacy Class of 1964 were on hand to welcome the Class of 2014 and to let them know they will be there for them over the next four years.
Enjoy this video and perhaps it brings back some memories! Click here to view the video.